Verify your email and cell phone today
Keep your debit card working!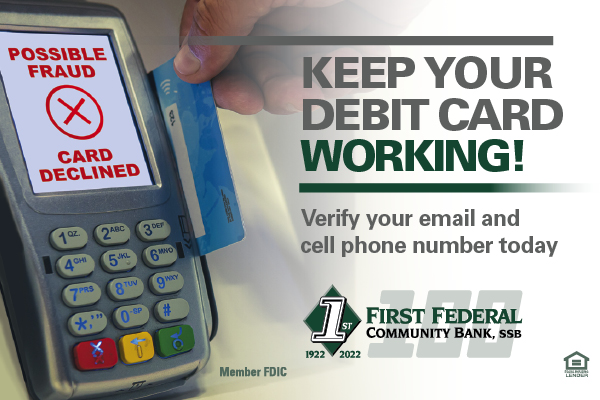 To protect you from card fraud First Federal Community Bank is adding a new fraud protection feature soon to automatically contact you in real-time 24/7 about suspicious debit card transactions. If we cannot reach you immediately, your card may be disabled until you reply to a text or email.
Keeping your contact information updated with the bank is critical!
Here is what we need from you:
Update or confirm your contact information through your online banking portal or visit your banking center.
Choose My Services then Profile to add or confirm your email address and cell number, and make sure to check the box to allow SMS.
You can reactivate your card by following the instructions in the text or email.
We encourage all cardholders to enroll online, or at least to make sure the bank has their cell phone number and email address so they can be contacted. The system will only contact that cardholder about that card's activity, not the spouse or other account owners.