February 10, 2020
New bank officers named at recent annual meeting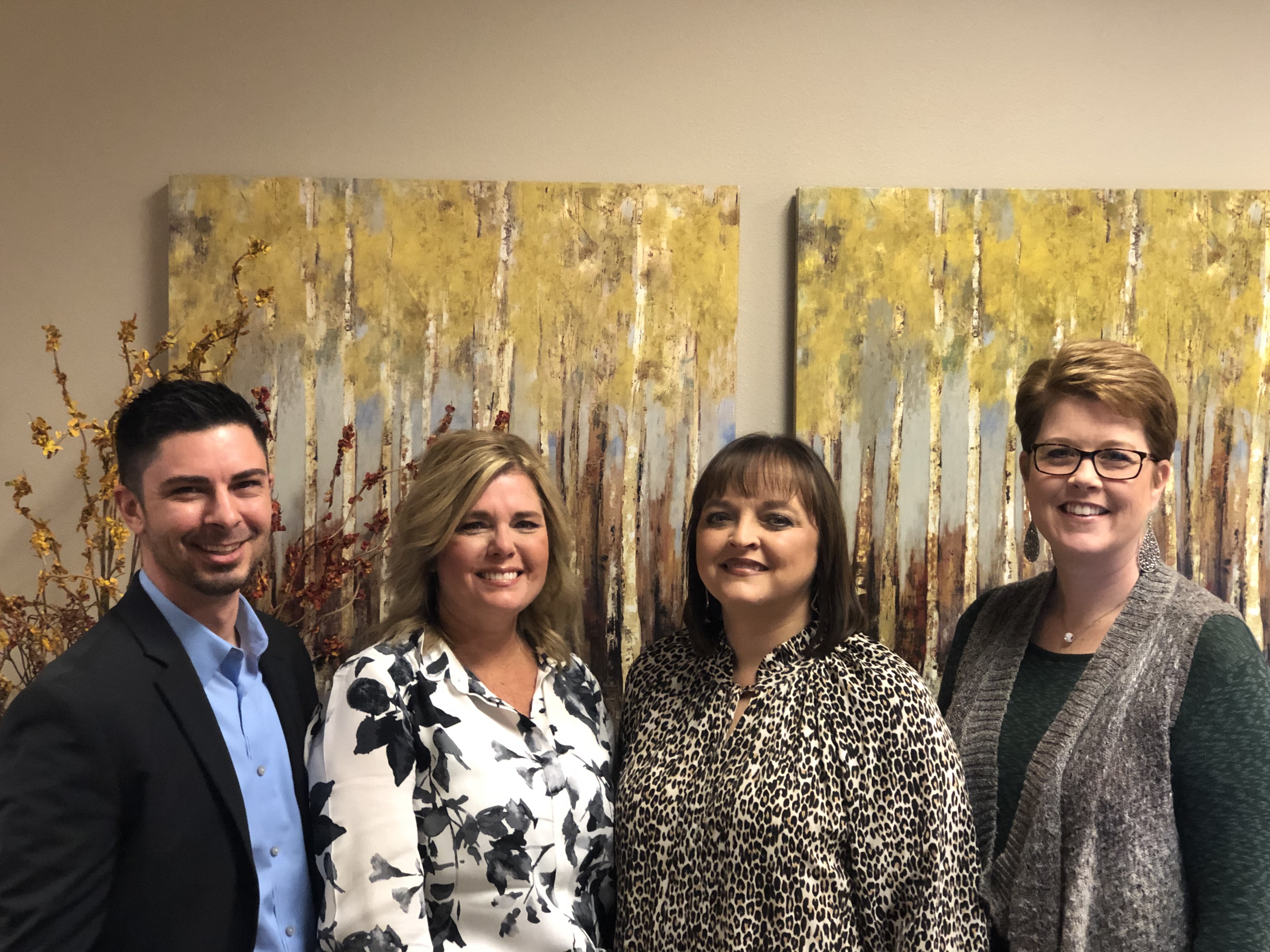 At its recent annual meeting, First Federal Community Bank, SSB announced the promotion of four employees to bank officer. Jason Schoggins, Teena McDowra and Lori Benson were promoted to Assistant Vice-President, and Susie Bristow was promoted to Loan Officer – Consumer Loans.
Mr. Schoggins has been a Mortgage Loan Officer at the bank's Loop location for the last 2 years. He started with the bank in 2008 as a Teller, and has also served as an Insurance Clerk and Mortgage Loan Processor. He is a graduate of Honey Grove High School and has attended the Texas Bankers Association Lending School and the Texas Tech University School of Banking.
He and his wife, Brittany, have two children, Brynlee and Brec. They attend church at cfParis. He has been involved with Big Brothers Big Sisters, the Downtown Food Pantry and Meals on Wheels.
"Now with almost 12 years' experience in the banking world, the last two in residential finance, Jason has earned this promotion. He represents our Bank very well and serves his customers with respect and professionalism. We are proud that he is part of our team," said Richard Amis, President and CEO of the bank.
Mrs. McDowra has been promoted to Assistant Vice-President/Assistant Branch Manager of the bank's Paris Loop location. She is currently the Senior Customer Service Representative for that branch. She is a graduate of Detroit High School and holds two certificates from Paris Junior College. She has worked for the bank for 29 years, starting as a Teller and working her way up to her current position.
She and her husband, Jeff, have three children, Ashley, Chassidy and Connor, and three grandchildren, Aiden, Cole and Maddox. The family attends cfParis Church. She is currently an Ambassador for the Lamar County Chamber of Commerce, and is a graduate of Leadership Lamar County.
Amis noted, "Teena has been serving her customers in a courteous and professional way for 30 years. Congratulations to her."
Mrs. Benson is the Human Resources Coordinator for the bank and also handles all of the bank marketing. She is a graduate of Paris High School and holds a Bachelor of Business Administration degree from Texas A&M University. She has worked for the bank a total of 6 years and has attended the Texas Bankers Association Management Development Program. She is a member of the Society for Human Resource Management and the Red River Valley Human Resources Association. She is also a graduate of Leadership Lamar County and Leadership Paris ISD.
Benson and her husband, Aaron, have three children, Reagan, Parker and Carter, and attend East Paris Baptist Church where they are active in the youth ministry. She also sings in the church choir and serves on the Missions Committee. She has served as the Treasurer of the Downtown Food Pantry for the last 6 years, volunteers with Meals on Wheels, and is on the board of the Paris High School Band Boosters.
"With 84 employees to advise, counsel, and control, Lori is doing a great job and is a key member of our management of the bank," said President Amis.
Mrs. Bristow has worked for the bank for 28 years, and also started as a Teller. She most recently served as a Loan Processor before being named a Consumer Loan Officer at the Paris Loop location. She is a graduate of Paris High School.
Bristow and her husband, Joey, have two children, Derek and his wife, Riley, and Bailey. They also have one granddaughter, Kollins. She has served on the board and as a Commissioner for Paris Soccer Association for the past 20 years.
Amis stated, "Susie just naturally evolved into helping customers with their personal loan needs while doing clerical work for other officers. She is more than capable to take on the responsibility of lender. After 28 years of service to our Bank, we trust her to help this segment of our customers' needs."
First Federal is observing its 98th year serving northeast Texas with two locations in Paris and branches in Clarksville and Mt. Pleasant.